Pre-School News
We are recruiting! 
We are looking for a Preschool Manager to join our team for approx 37 hours a week. Full details of the role are available here. Please download our latest application pack here
CLOSING DATE: 29th APRIL 2018
September 2018 Spaces
From September 2018 we will have spaces in sessions so please do get in touch if you would like to register with us or increase any existing sessions.
Wrap Around Care – 8am – 6pm
We are now offering Breakfast Clubs and After School Clubs to offer childcare from 8am to 6pm for Pre-School children and Up to Year 1.  If you would like any more information on these sessions please do give us a call or pop into Pre-School.
30 hours free childcare:
You may be aware that the Government-funded hours for 3–4 year olds will be increasing to 30 per week for eligible families. We are offering these additional hours to current children first, on a first-come first-served basis, before offering to new starters. Please let Clarissa know if you are interested in increasing your child's hours
Latest Fundraising Events
Curry Night March 2nd – Thank you to all those who braved the snow and cold weather. We are just counting up and will confirm the full amount raised shortly.
Race Night 27th January – Thank you to everyone who attended and supported our first charity race night – we raised a fantastic £500 which will be used towards the purchase of bikes and scooters for the outdoor area for the children! Thank you also to Greatworth Sports & Social Club for the use of their hall for the event.
Fireworks 3rd November – Thank you to all that came along and supported us, Greatworth PTA and Whistley Scouts 2000 group. We raised an amazing £2360.25 so split 3 ways is a fantastic £786.75!!! Which we will be using for some new fantastic resources for the children.
Curry Night Sept 29th – Thanks to all that enjoyed our home made curries. We raised a fantastic £310 profit!
Phil The Bag – September Collection – Thanks to all who donated and have been using our storage bin. Our September collection raised £108.50 which we have brought some fantastic new resources for the preschool children to use!
A massive thank you to everyone for all your support in 2016/17 as we managed to purchase lots of valuable resources for our Pre-School children to use and help develop their skills.
2016/17 Event
Bake Off – Thanks to all that came – we hope you had fun! We raised a fantastic £501!
Cheesy Disco – Thanks to all that came – we hope you had fun!
Xmas Fayre – Thank you to all that came – in total £680.48 was raised so split with Greatworth Primary School PTA that has given us £340.24
Roundtable Santa Visit – Thank you to all those who donated – in total we raised £400 so split with Greatworth Primary School PTA that has given us £200.
Thank you to everyone that supported these events!
Upcoming Fundraising Events
Friday 3rd November – Greatworth Family Bonfire & Fireworks – Enjoy us for a great family friendly evening to enjoy a bonfire, fireworks, bbq and refreshments. More details available here –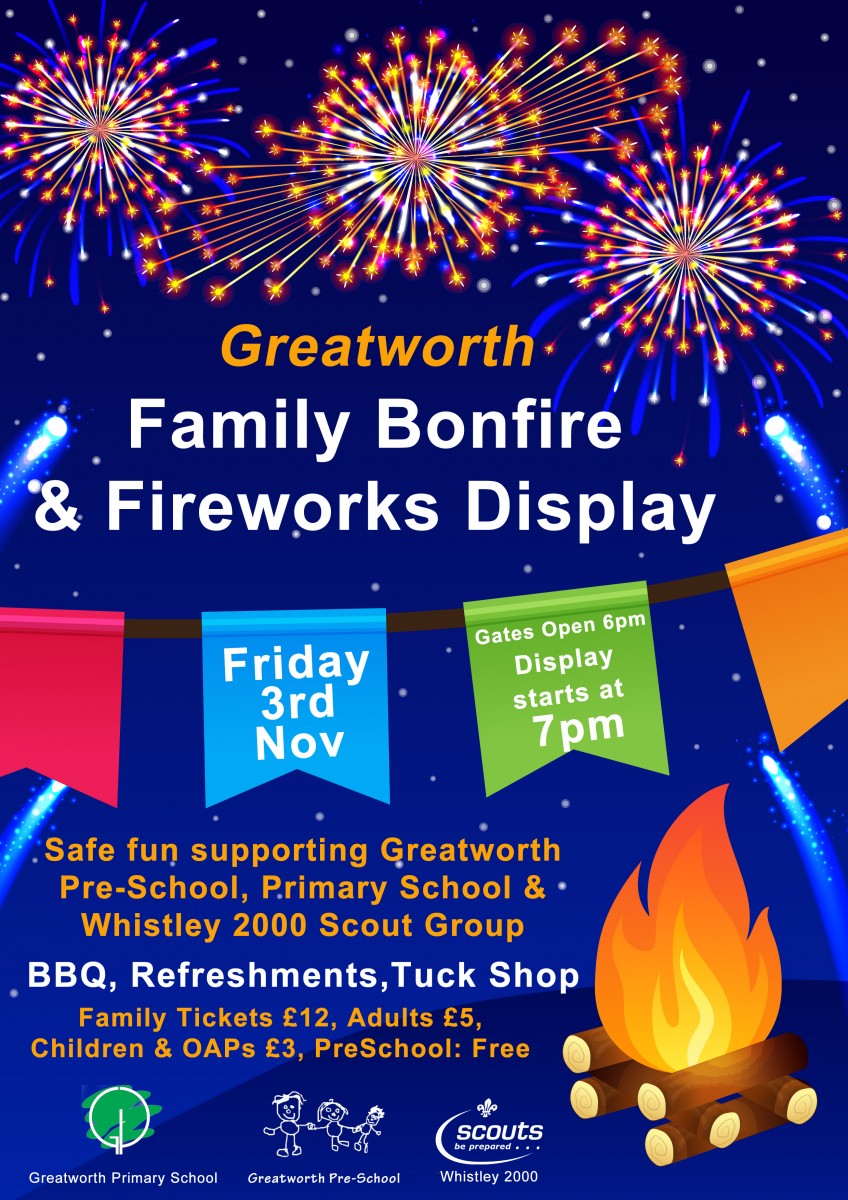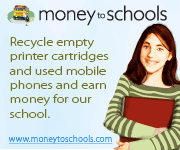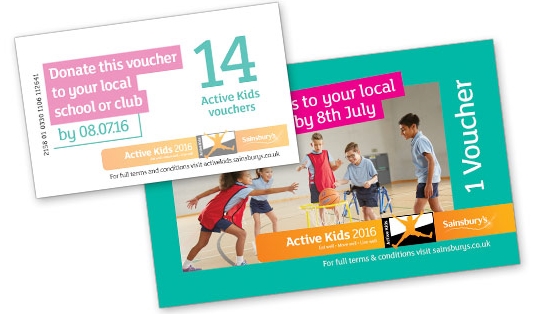 Sainsbury's school vouchers
We are collecting school vouchers and there is a box at the shop if you have any you would like to donate.
School Events
Greatworth Pre-School are holding an Open Morning on Saturday 14th October – 10am to Midday. Please pop along if you would like to have a look around our facilities. Or if you cannot make this date please do call us to arrange a time convenient for you!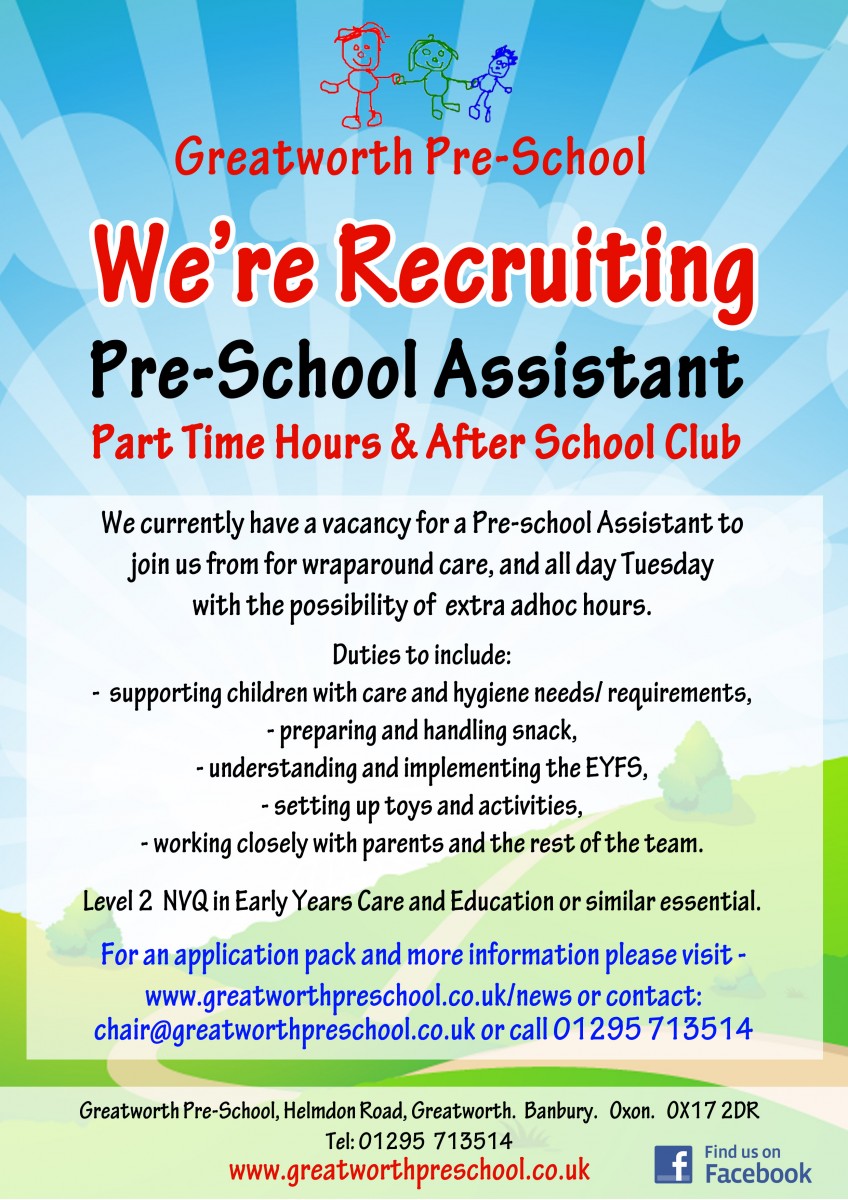 Follow us on Facebook
Just a reminder that if you haven't already brought your money in from the Easter Egg Sponsorship please can you bring it in this week. All the..